Refoundation was a sequence of 3 annual summer workshops in the Melvina neighborhood park field at 29th & Melvina, in the Century City area of Milwaukee, WI. In the shadow of the long-closed A.O. Smith auto factory, the triangular park site was marked by Neighborhood Improvement District for problems with prostitution and gambling in a family area with many kids. I worked with youth, elders, and civic organizations to explore themes of home, neighborhood history and future visioning of the site. 'Open hours' based out of a trailer and storage pod included sculpture building, photography, painting, interviews, play, and conversations. The workshops built towards culminating installation exhibits and celebration cookouts with local performances, attended and cherished by about 100 local residents each year.
Refoundation started in 2011 through a partnership with IN:SITE temporary public arts group and City of Milwaukee NIDC, and was exhibited at City Hall. The project was invited to occur again in 2012 and 2013 and was supported by Neighborhood Improvement Project/NIDC, Milwaukee Public Theatre, Century City Tri-Angle Neighborhood Association, and Riverwest Artists Association.
Read about the project on Patricia Briggs' Scene/Unseen blog  and on John Schneider's Express article.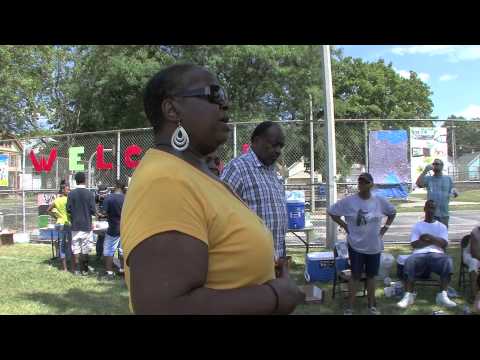 ]